USAF T-X Type Dynamic Motion Seat Support
T-X
ROLE
• Fast-Jet Trainer
NATIONAL ORIGIN
• TBD
MANUFACTURER
• TBD
FIRST FLIGHT
• TBD
PRIMARY USERS
• United States AF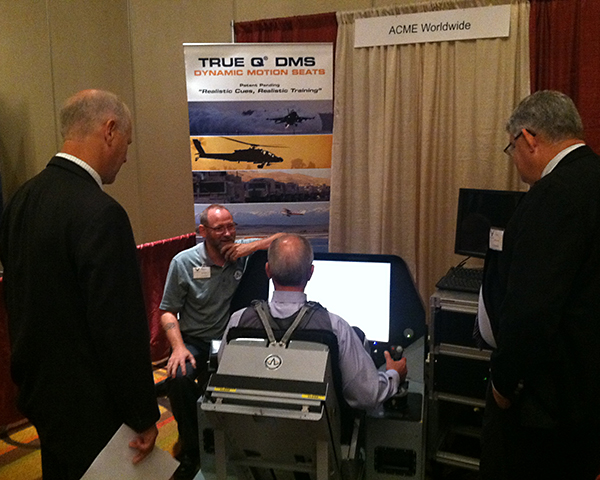 ACME's dynamic motion seats are a combination of vehicle crew seats with electric motion components built inside the seat. The seats look, feel, and function like actual crew seats, and provide cues to emulate sensations felt during the vehicle or in-flight operations.
ACME seats translate simulator acceleration signals into realistic, convincing motion. True Q® seats provide a higher level of cueing, where the motion IS training, for example feeling unique signature sensations such as translation lift between Helicopters vertical and horizontal flight or the difference between a helicopter rotor out of balance or a blade of track.
The seats use a patented electric system with individual motion plates/pans, providing cues directly to the crew's body.  It's the effect of multiple channels in the seat working seamlessly together that provides complete, realistic, immersive cueing.
The COTS core motion system inside is adaptable to any external seat shape or form so we can provide motion seats for nearly any Military & Commercial simulator.
In fact, we've produced dynamic motion seats for training systems worldwide including land vehicles such as locomotives, and Humvee-trucks, helicopters including AH-64, Multiple H-60 models, NH90, CV-22s, and fighter jets including like M346, F-15, F-16, & T-50. We can pair fighter seats with our G-suit system too for additional cueing capability.
ACME's True Q® motion seats are an ideal way to cost-effectively add realistic motion cueing to any Sim.  Motion Seats are much less expensive that motion platforms and offer much greater cueing than seat or platform shakers and ACME seats can provide unique cues such as yaw twist simply not available in platforms or shakers.
---
The T-X program has been established to enable the United States Air Force to buy a new two-seat jet trainer for fast-jet training to replace the Northrop T-38 Talon; the average age of the T-38 fleet is over 43.5 years. About 350 aircraft are expected to be ordered to replace the T-38, but further purchases could push the overall purchase to over 1,000.  The program is expected to begin in FY 2017.
The USAF's Air Education and Training Command (AETC) has been developing requirements for the T-38 replacement program since 2003. Originally, the replacement trainer was expected to enter service around 2020. A fatigue failure in 2008 killed the two person crew of a T-38C, advancing the target service date to 2017. In the Fiscal 2013 budget proposal the USAF suggested delaying the initial operating capability to FY2020 with the contract award not expected before FY2016. Shrinking budgets and the need to fund higher priority modernization projects have pushed the IOC the T-X aircraft to "fiscal year 2023 or 2024." The delay was a direct result of budget constraints, so the T-X was pushed back to support higher Air Force priorities. Although the program was left out of the FY 2014 budget entirely, the service still views the trainer as a priority.
One of the driving requirements for the new trainer will be to help prepare pilots for the increased complexity in some areas, particularly information management, that are a part of fifth generation jet fighters like the F-22 Raptor and the F-35 Lightning II. The aircraft and simulation system will have to fulfill several basic training roles; basic aircraft control, airmanship, formation, instrument and navigation, advanced air-to-air, advanced air-to-ground, and advanced crew/cockpit resource management. Furthermore, there are five advanced training roles that the system is expected to fulfill; sustained high-G operations, aerial refueling, night vision imaging systems operations, air-to-air intercepts, and data-link operations. The 2009 Request For Information (RFI) mentions that some tasks, such as aerial refueling, may be performed in the simulator and not on the aircraft itself.
Additionally, while the RFI is specifically for a USAF trainer, it asks potential suppliers about the feasibility of a fighter/attack variant of the aircraft and a carrier-capable variant for the United States Navy. However, the requirements manager for the program, Stephan Lyon, has stated that it is unlikely that potential combat performance will be considered. Similarly, while Navy officials will be participating in some stages of the program, carrier suitability will not be part of the evaluation.
Although the formal request for proposals has not been released, several competitors are expected to submit existing aircraft and others are considering all new designs. Those expected to propose existing aircraft are Alenia Aermacchi with the M-346 Master, Korea Aerospace Industries/Lockheed Martin with the T-50 Golden Eagle, and BAE Systems/Northrop Grumman with the Hawk. Textron AirLand is evaluating possible modifications to its Scorpion, currently a single flying prototype, from tactical jet to trainer aircraft to meet the expected T-X requirements.  Boeing was said to be considering several options, including a new aircraft. Boeing had an existing partnership with Alenia to market the M-346 internationally, and also with BAE on the T-45 Goshawk. Boeing instead partnered with Saab Group to offer a new, purpose-built aircraft for offer to the US Air Force.
---
---
ACME Worldwide Enterprises Dynamic Motion Seats are in the 5th Generation of evolution.  The product line is robust and well-tested to be used in a high-intensity training environment.  ACME offers a military grade solution for delivering patented motion cueing to any T-X Fighter Trainer Simulator or Part Task Trainer.
Standard Fighter True Q® Dynamic Motion Seat Features:
  ACME True Q® DMS offers many standard base features for your simulator motion solutions.
Dynamic Motion Seat (DMS)
Electronics Chassis
DMS Computer System (Can drive 2 Electronic Chassis and 2 Seats)
Connecting Cables
DMS Maintenance Manuals
Daily Operational Readiness Test (DORT) Software
DMS Autotest – Capability that performs a complete performance test on the seat. All axis are exercised to verify the displacement, velocity, and acceleration performance of the seat using sensors that are independent of the normal drive equipment. This test is used to verify the DMS meets or exceeds all required performance criteria and to establish a performance baseline. The baseline can then be compared throughout the life cycle of the DMS for certification and maintenance purposes.
Vertical seat adjustments
Electric motors eliminates expensive hydraulics and maintenance intensive pneumatic systems
Easy access to system components for maintenance and tuning
Standard Safety Switches/Systems: Weight on Seat / Loss of Signal at DMS Computer / Crew Enable / Self Monitoring System
---
Support at the TX Industry Days (August 2014) – It was great to see many of you at the T-X Industry Day in San Antonio in August and we wanted to say Thanks for the opportunity to show you our fighter motion seat and chat about the T-X program. We're glad that so many folks got to experience the motion seat and fly both the air refueling and formation flight scenarios in our little cockpit while at the Industry Day. It's always great to see people's faces light up as they fly the seat and it all just clicks—the motion really is convincing.
T-X day was interesting–It will be a melancholy thing for many of us old (retired, not old!) USAF folks to see the Talon go, but for sure, the T-X development is going to be an exciting time for aircraft enthusiasts worldwide.
We're sorry if we missed you at the T-X Industry day but we're working hard on a lot more outreach to get out there with our True Q Dynamic Motion Seat. We're heading for I/ITSEC in Orlando in December and we'll be at WepTac in Las Vegas in January. Hope to see you there!